With graduation right around the corner, a lot of us are feeling the pressure, and not just with passing finals and securing our post-college plans. If there's someone you've had a crush on since the first day of freshman orientation, but you haven't quite built up the courage to make a move, that 15-page paper doesn't seem like such a big issue. You don't want any regrets, but how do you make an impression with so little time left? Here's a five-step plan to get your crush's attention before you accept your diploma.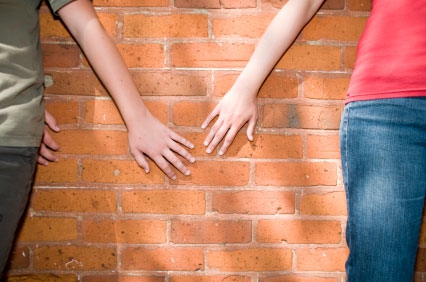 Part 1
1
Come up with a plan — now
The hardest part of this step is working with a limited amount of time. With so little time left until graduation, the days of building up confidence or plotting out an elaborate scheme are long gone. At this point, you'll want to come up with a plan that fits your unique situation. If you don't have a lot of time, it's best to just keep things simple and invite your crush out to celebrate your success over drinks or dinner. We'll elaborate more on these steps later, but whatever you choose to do, don't let the ticking clock deter you from your goal
2
Be confident
This step is by far the most important. Even if your college career is winding down, you shouldn't be afraid to make the first move! In fact, now is definitely not the time to be too shy or play hard to get. Confidence is key. Putting the situation in perspective can help calm any nerves, so think of it this way: you'll be graduating soon, so if you get turned down or things get a little awkward, at least you won't have to face your crush in chemistry class the next morning. But, if things go well, you'll be really proud of yourself for having the confidence to make the first move. Either way, the feeling of graduating without any 'what ifs' will be completely worth it.
3
Make a dinner date
Maybe an anti-study celebration date isn't your style – that's okay. Now's the time to make a date; invite your crush to dinner or fro-yo, or something else that's a little more substantial than coffee alone. Or, if you have the time and effort left in you, you could plan something more elaborate. Maybe the two of you used to eat at the dining hall every day freshman year. How cute would it be to make one last trip back there and relive all the memories? Even if the two of you don't have a special spot that works out quite as perfectly as that, just be confident enough to make plans and get your true feelings out there.
4
Make a post-finals anti-study date
Now that your schedule is finally free of finals, take a much-needed break from studying – and from the library. Make a Frappuccino happy hour date or make plans to hang in the courtyard to celebrate your newfound freedom and the start of summertime. Trust us: Your crush will love taking some time to just sit back and relax with a girl like you.
5
Get help from your friends
We've been preaching confidence all this time, and while that's definitely important, sometimes situations are just easier with your friends around. So get a bunch of friends together for drinks and invite your crush along for the ride. If you really like living on the edge, invite him or her out for a celebratory post-graduation feast with a big group, and make your move then. It's even better if you have an end-of-the-year event that requires a date (or one to which pretty much everyone brings one anyway). So whether it's a sorority/fraternity event or a club's end of the year bash, take full advantage of it and ask your crush to go with you.
Group or no group, the last thing you want is look back and wish you would've stepped-up when you had the chance. Whichever plan you decide on, the last days of school are your last-ditch effort to let your crush know how you truly feel once and for all – besides, who wants to leave college with regrets? So boost up your confidence and make some moves, collegiettes!
ANY IDEAS ABOUT THIS TOPIC?