Friendships with your girlfriends are very important. That's especially true when life comes along and changes things – when you get married, start having kids, land that great new job or otherwise deal with the things life throws at you. You have to work hard to keep those friendships from falling to the wayside.
That's why girls day out ideas are so important. Having a perfect girls day means that you are spending quality time with the important women in your life, and enjoying that day to the fullest. You don't have to go with expensive girls day ideas – the key is to spend quality time, and that might not cost a single dime.
Ready to enjoy the perfect girls day? Here are some great ideas that can get you and your friends excited about getting away from it all for a while.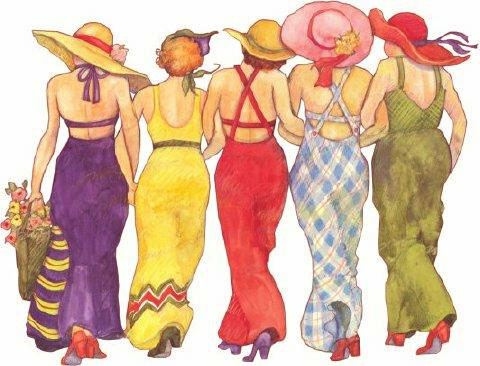 Best Ideas for Great Girls Day Out
1
Go for a run
A "fun run" can be a great girls day idea that gets you moving and allows for quality time, all for a good cause. Fun runs require you to coordinate something, which means that you get to choose funky outfits or themes. Have a good time with it! You can also join in exciting events like the Electric Run, the Color Run, Tough Mudder, etc.
2
Do something entirely new
Are there things that none of you have ever done? Now is the day to try it! If you have never had Japanese food, go for it. Never done a bungee-jump? Now is the time! Why not try whitewater rafting? Choose things that no one in the group has done and make it a big outing.
3
Ride into the sunset
Horseback riding is a fun and relaxing way to enjoy nature and the company of your best girlfriends. Remember to pack a picnic basket with your lunch, as well as a few treats for your trusted steeds.
4
Go for a drive
Sometimes it is fantastic just to drive and talk. Plan out a route that takes you to a great new restaurant or a place you have always wanted to see, and keep the radio off the whole time. Just talk about anything and everything at all. If you do play some music, play something you have shared interests or memory with so that you can sing along all together.
5
Dare each other
Spend a day in which you encourage each other to do fun things, in the form of dares. You might dare your friend to hit on that cute guy, or they might dare you to jump off the highest perch at the pool. Name your dare and make great memories!
6
Plan a spa day at home
You don't have to spend a ton of money on a spa. One of the most common and most enjoyable girls day out ideas is the spa day, where you give each other manicures and pedicures, and maybe even trade clothes out of your closets.
7
Break out the movies
Remember back in high school, when you would sit on the couch and munch popcorn and snacks as you watch movies with hot guys in them? Now is the time to relive that awesome memory! Rent movies that you all want to see and then hole up in the house with plenty of bad-for-you snacks.
8
Go to a wine tasting
What's better than getting together with the girlfriends? Putting some classy alcohol in the mix! A wine tasting allows you to enjoy new flavors while getting your feel-good on. Invite your best friends and remember to make one of them a designated driver.
9
Hit up yard sales
Or flea markets, or antique auctions, or anything that gets you out and revs up your bargain-hunting gene. These are fun ways to get to know your community while you spend a great day with your best buddies.
10
Get a mini makeover
Head to the cosmetics counter at any major department store and ask for a complimentary makeover. You will find plenty of new ideas for your makeup, spend a short period of time getting glamorous, and have a great time while you're at it.
11
Hit the farmer's market
Healthy eating never felt so good! Choose amazing local foods from vendors right from your area, then go back home and laugh as you whip up a fantastic lunch with your findings. Don't forget the flowers for the table!
12
Make smoothies
Remember those goodies from the farmer's market? This girls day out idea doesn't take much time and it gives you something great to enjoy. Create smoothies filled with your favorite things, then create smoothies filled with things you never thought you might put in there, like kale or even turnip greens. Vote on the best one!
13
Go to a yoga class
Most places offer a first yoga class for free, so choose one that all of you can attend. You can learn something new, distress your body and mind, and share a new, healthy experience.
14
Make scrapbooks
For this one, everyone should bring stickers, old photographs, glue, magazines and other goodies that will make awesome scrapbooks. Sit at the kitchen table and pass around the options, create something gorgeous and later, take it home as a great memory to look back on.
15
Throw a gutter ball
Haven't been bowling in a while? Good! This is a chance for you and your friends to get goofy and enjoy yourselves to the fullest. You will have some great memories from this one, maybe burn a few calories, and of course, it's pretty inexpensive. Why should you miss girls day out ideas like this one?
16
Go road tripping
Plan out an itinerary, whether it is one day or a whole week, and hit the road! How much this costs depends upon your destination and how far you intend to go, but that's something that you can budget together – who knows? Figuring it out might even add to the fun.
17
Go even further
Want to find even more fun things to do? This list here can give you even more great plans for the perfect girls day out.
ANY IDEAS ABOUT THIS TOPIC?