This is it – you have made up your mind and are going to propose to the love of your life. We know, it's a huge burden to live up to everyone's expectations and make this moment as memorable as possible. You may have watched tons of rom-coms for clues, or read girls' magazines, or even sneak into her diary. Now relax – here's the ultimate guide on how to propose to your girlfriend and nail it.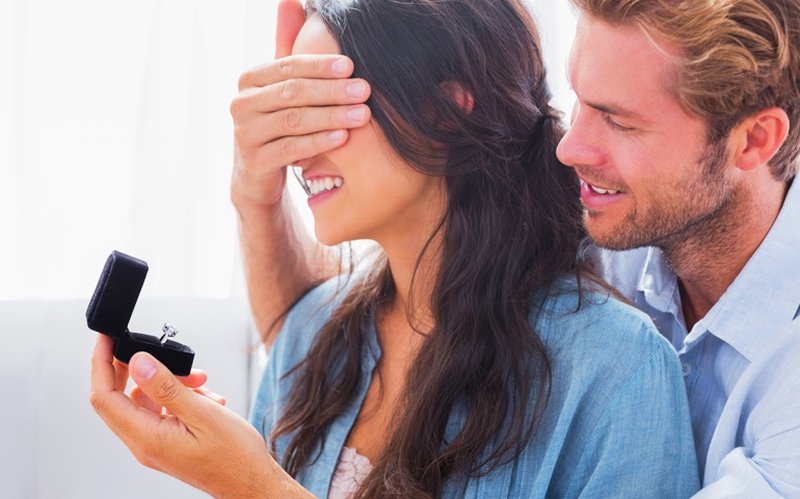 13 Awesome Ways to Propose to Your Girlfriend
Here we are with a whole list of original ideas about how to propose to your girlfriend and make her say yes right away! Remember: it's always better to make a few slight hints in advance, and your mutual excitement is guaranteed!
1
At a Sports Game
You may have seen it for a hundred times. Probably, your classmate did it at a local hockey game last year. But you know what? It works! And this will be remembered by a whole stadium of people plus those on her Facebook who will be liking your pictures like crazy.
2
On the Beach at Sunset
If you don't live anywhere close to the beach, this would be a great excuse to go travelling. Meanwhile, get the timing right to arrive just before the sun starts to set and get to one knee. This moment is bound to fall in line with a whole range of her feelings – about you travelling together, about your effort to get there, and about your perfectly planned proposal. So, well, go for it!
3
On a Rooftop
This is by far one of the easiest ways to propose. If you happen to come from the mighty bunch of local punk rock kids, every rooftop should be your familiar territory. If not, just get access to the nearest one and arrange a dinner out – with a special view all over the city. The moment the street lights go up, it's time for you to act.
4
At a Home Party
This one is perfect if you wonder how to propose to your girlfriend with your friends involved. Also, your proposal will come up in the surroundings that are familiar to her, which means, ultimately, she will be relaxed and calmed down. Apart from this, it's a great fun, especially when you decide to throw a surprise party when she least expects it, for example, after a hard workday or on your minor anniversary.
5
At a Public Event
It can be really anything – a Christmas gala, a charity ball, your friends' wedding (why not?), a night club party, or even the Easter parade. Just make sure there are a few hundred nicely dressed and a bit drunk people watching you on stage, saying out loud the words you reserved for your chosen one.
6
On a Billboard
You should have been dating quite long for you to come up with this decision, so you should as well know what road she takes when going to or from work. Consult your local advertising agency responsible for public billboards and submit a nice design saying those sacred words for you. You can even arrange a special date to show this sign yourself.
7
In a Different Country
Going on a holiday to an unknown place may be a bit risky, but it puts you and your relationship to the test, in some sense. If you stand this test successfully, you won't have any doubts about your choice, so the only thing left to do is to arrange a nice spot in the city you're staying and ask the locals to play your cheerful crowd.
8
On a Trip
This can be quite different to crossing borders. You can stay within your home country, but go for a nice weekend break to the countryside, woods, or to the sea. Take your families with you if you want it to be uber-special and think no longer about how to propose to your girlfriend in the nicest way possible.
9
On a Boat
If you are lucky enough to live by the sea or the river suitable for sailing, rent a boat, buy some champagne and seize the moment. Being on a boat amidst nature will kick her out of the environment she's used to be and get her just in the right mood for something surprising.
10
In a Video
Making a home video of you, your friends, family, pets, or even celebrities (have you seen one guy's proposal video with Zach Braff as part of his infamous crowd funding campaign?) and show it to your girlfriend directly or make her bump into it "accidentally". Then watch her reaction and wipe her tears, because this is always touching.
11
At a Concert
If you think it's the right time to make a huge leap in your relationships but hesitate about how to propose to your girlfriend quite unusually, here's the deal. Make sure you have some connections in concert agencies, so that they could help you with on-stage proposal. It's even better if this is your all-time favorite band – who knows, they may be eager to introduce you in between their songs and bring you on stage?
12
In a Letter
This can be sent or handed over directly with a special courier. Don't be afraid to seem a bit old-fashioned and use actual inks and vignettes (you may even type in with the help of a real typing machine). Don't forget to share your sincerest feelings and seal it with hot wax. This act should bring her back to the times of nobility and forbidden romances of some nineteenth century, so why not be a bit playful?
13
During a Quest
Now this will require a bit of advance planning. There are dozens of quest games that are held across cities. If you have any agencies responsible for anything of a kind in your area, ask them to draft a custom quest game that would result in finding your hidden proposal message (in any suitable form) and join her in this quest to be the first to hear her answer!
ANY IDEAS ABOUT THIS TOPIC?