This is it. You've finally met the one you want to spend the rest of your life with. Now you've got to figure out how to propose to your girlfriend. Of course, asking someone to marry you is a daunting prospect, but if you have a plan and rehearse what you're going to say, you can make it without stumbling. Consider the type of person your girlfriend is – does she like elaborate gestures and big displays, or does she prefer something more intimate? Remember that the most important thing is that your proposal comes from your heart and you tell her exactly what she means to you. If you're unsure how to go about it, or need some inspiration, here are some things to consider when proposing to your girlfriend.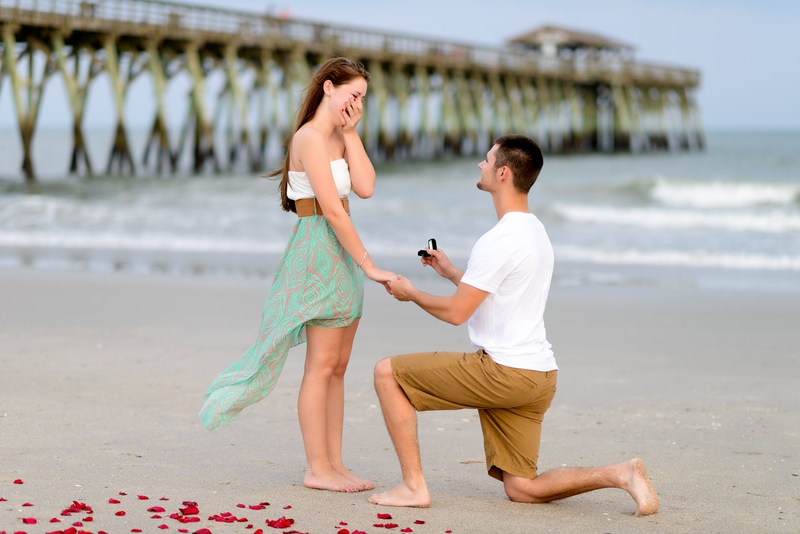 Part 1: A General Introduction to Propose to Your Girlfriend
1
Step 1: Buy the ring. You can do this by yourself or with your partner's help. If she's fussy or you don't know what she would like, it's best to do this as a couple. However, if you want the proposal to be a surprise, get the ring yourself. Just remember to keep the receipt and get the ring insured.
2
Step 2: Ask her parents' permission. Although this has become less of an obligation in recent times, it can be important in certain cultures and families, and her parents will definitely appreciate your consideration. Make sure you arrange a meeting in person, and make an effort with your appearance.
3
Step 3: Decide a location for the proposal. Go for somewhere that has personal meaning for the two of you, such as a beach, park, or nice restaurant.
4
Step 4: Get your proposal speech ready. Think about how to propose to your girlfriend and rehearse it in front of a mirror. It can be in the form of a poem or song, but make sure that the words are sincere and come from the heart. Use props if they add to the occasion.
5
Step 5: Get your girlfriend to the location. You can either meet her at the place or pick her up to take her there. Make sure everything is well organized so that you're both there at the right time. You can pick her up as if you're on a normal date, or get her friends to take her out somewhere, where she ends up meeting you. Alternatively, you could arrange a treasure hunt of clues, all of which lead up to meeting you with the ring.
6
Step 6: Propose! Kneel down, recite your proposal, and wait for the answer. Stay kneeling down for a while – it's just romantic. Proposing to your girlfriend is an once-in-a-lifetime moment.
Part 2: 10 Perfect Ways to Propose to Your Girlfriend
1
Public Marriage Proposal Ideas
Think of somewhere special for the two of you, whether it is a monument, park, fountain, or rooftop. Next time you're there with your girlfriend, get a passer-by to take a picture of you both. At the last second, go down on your knee and propose. Now the moment is captured forever.

Arrange for a brass band or choir to show up at your favorite place and play your girlfriend's favorite love song, maybe even incorporating her name into the lyrics. She'll have no doubt about what you're up to then.
2
Destination Marriage Proposal Ideas
As a variation on the traditional beach proposal, build a sandcastle together. When she's got her back turned, place the ring on top of the castle.

At the end of a day's sightseeing, go for a relaxing drink in the bar of the hotel you're staying in. Arrange for the hotel staff to set up candles, flowers, and champagne in your hotel room while you're in the bar. When you return to your room, you're all set for a beautiful surprise proposal.
3
Homemade Marriage Proposal Ideas
Get some material for making letters and spell out "Will you marry me?" Be creative – duct tape, colored paper, and flower petals are all good choices. Present your partner with your proposal at home, at work, or in the park.

Alternatively, go back your schooldays by writing your proposal in chalk on your driveway, your back garden, or on a public sidewalk or pathway.
4
At-Home Marriage Proposals
Tie a velvet ribbon between two places in your house. Fasten photographs and notes detailing your relationship along the length of this ribbon. At the end, you'll be waiting to present your partner with the ring.

Say it with candles. Turn off all the lights and make a candle-lit path in your house or garden that leads to a ring of candles circling the engagement ring.
5
Techie Proposals
Get one of your friends to take four pictures of you with the words "Will", "You", "Marry", and "Me?" Next, arrange to meet with your girlfriend in a special place. Before she arrives there, text her the pictures in order. When you see her, get down on your knee and say your proposal speech.

Set-up a page on the internet stating your love and your proposal message. Then, leave her a message with the web address in it. When she sees the web page, her jaw will drop.
6
Playful Marriage Proposal Ideas
Act out your favorite romantic movie scene. For example, take her to a drive-in movie to pop the question à la Grease.

Make obvious enquiries about her ring size, for example, by showing her a ring chart. When she says that you're spoiling the surprise, whip out the real ring, and make the proposal on the spot.
7
Fall and Winter Marriage Proposal Ideas
Spell out your proposal with leaves raked in your back yard.

Make a snowman in the shape of a man proposing. When your partner spots him, you're ready to do the deed yourself.
8
Spring and Summer Marriage Proposal Ideas
Go outside on a clear summer night and propose under the stars. If there's a lunar eclipse or meteor shower predicted, this will make your proposal even more spectacular.

Get a friend to make up a picnic for you in a park or woodlands, including wine, cheese, and sweet treats. Go for a walk with your soon-to-be fiancée where the two of you happen upon this unexpected picnic, and you are ready to propose.
9
Marriage Proposal Ideas With Surprise Parties
After you've proposed to your girlfriend, suggest a celebratory drink nearby. Little does she know that you've arranged a surprise party here with all your family and friends.

Alternatively, if the proposal is in a park, you can organize your friends and family to show up for a surprise celebration once she's agreed to marry you.
10
Holiday Marriage Proposal Ideas
During Halloween, carve your proposal into a jack-o'-lantern. Light it up, turn it around, and present your girlfriend with your message.

At New Year's Eve, find a romantic location with your partner before midnight. Just before the clock strikes 12, propose to her, and you'll have a lot more to celebrate than just the New Year.
Tips
Do get down on your knee. It may be old-fashioned, but there is something chivalrous and deeply romantic about dropping to one knee and asking your girlfriend to spend her life with you.

Do buy the right ring. Your fiancée will be wearing this ring for the rest of her life, so ensure that you pick the right one. You can talk generally about the styles she prefers, do some window shopping at jewelers, or talk to her family and friends to get an idea of what she would like.

Avoid hiding the ring in food. This has now become clichéd – and what could be less romantic than choking on the ring or a chipped tooth?

Don't over-complicate things. Although you want to be creative and original when thinking about how to propose, don't forget what it's all about – committing to spending the rest of your life with the one you love. Don't let this get lost in complicated preparations.
ANY IDEAS ABOUT THIS TOPIC?