A little teasing never hurts – every once in a while you'd want to spice up your relationship to show your boyfriend you are really inventive and passionate to keep it rolling. The following guide will help you discover your inner coquette and bring diversity to your romance, let alone your sexual life. Keep reading for some tricks and, eventually, treats that will leave your boyfriend craving for more.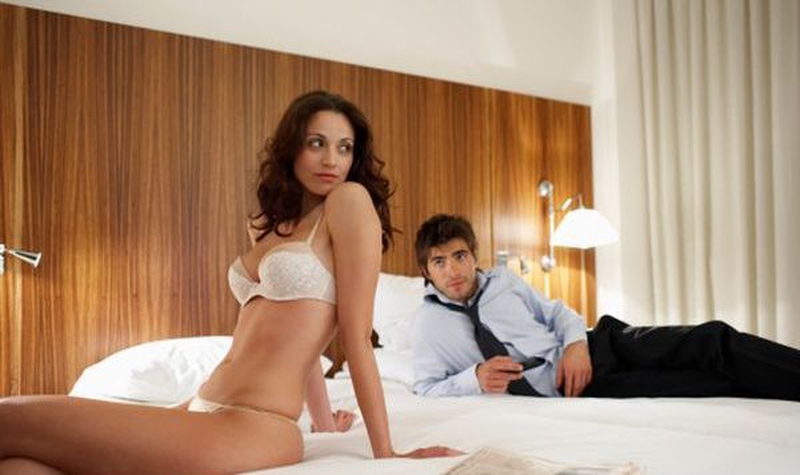 Learn to Build the Tension
1
Um, it's a girl's territory too. Building the tension between you is one of the most rewarding ways to make your every day different. Even if you have achieved a certain level of intimacy, this is never enough to reveal all the secrets about you and your sensuality. So here is some advice on how to tease your boyfriend properly.
Understanding what sexual tension is in the first place is helpful: its ever-present ingredient is the promise of future gratification, or release that is somewhat deterred for an unspecified period of time. The perks of delaying his gratification is in allowing his mind to wander off and conjure up images with you in the main role so that he could later play off his fantasies. Compared to immediate gratification that involves no tease, this approach helps you acquire new qualities in his eyes and make you more desired and sex appealing. So don't rush into offering yourself up on the plate, let him build pictures in his head first.
Timing is essential. If you are up for building the sexual tension between you, try to frame it chronologically – set a few days or even a week with a much anticipated release afterwards. You may even want to leave the city for a couple of days, so that you have all the benefits of dirty phone talks or messages without ever having a chance to touch each other.
If you are curious about how to tease your boyfriend when he is beside you, don't underestimate the power of talking supported with some provocative touches and flirty glances. Strike up a seemingly innocent conversation about his first sexual experience, or share stories about first discovering your pleasure zones during your adolescence. Without revealing your true intentions, these small talks will help you both establish a higher level of trust by demonstrating your genuine sexual drive and the desire to share intimate details with each other. Also, he is most likely to end up dreaming about you masturbating, and so are you. You will hardly notice how quickly it turns you both on!
12 Ways to Tease Your Boyfriend
Here we also offer you some practical tips for teasing your boyfriend:
1
Play on his imagination
Choose your looks smartly and never show too much. Let your strap fall easily off your shoulder, suck a tip of your pen as if absent-minded, or wear a silky dressing gown after a shower, with your skin still a bit wet.
2
Show you can be independent
Even after the hottest night together, try not to be too grateful for the pleasure he gave you. Instead, behave as if nothing happened until he starts wondering how to give you even more.
3
Try cross-dressing
The infamous 1980s erotica Nine 1/2 Weeks can teach us a lesson of ultimate tease. If you don't casually don a tuxedo or a man's suit but want to know how to tease your boyfriend, just wear his shirt with no bra underneath. It will set off his imagination immediately!
4
Put on sassy lingerie
This hardly requires any explanations. You know.
5
Slowly apply your perfume with him looking
This intimate gesture of you touching yourself gently – first your neck, then your cleavage while he's looking is bound to bring you closer and give him a few sweet moments of marveling at you.
6
Text dirty when he least expects it
When he's in the middle of his working day, send him a dirty message with quite straightforward statements. He will long to get to you early to release his tension.
7
Go a bit wild in public
PDA, or public displays of affection, is a good way to show that you don't care a dime about other strange people around when it comes to wanting him. However, the fact that you are in public won't let him go too far, for which he will have to wait – and waiting is the best recipe for building the tension.
8
Mention your ex-lovers
It's a dangerous method, but mentioning your exes may cause a bit of jealousy – which is always good to fire him up wanting to prove he's much better.
9
Send him pics
The old game of naughty pictures is as good as always. Add a few playful images with a varying degree of nudity to give him something to think about. Also, he will be very much flattered if he sees you can trust him that much.
10
Give him prolonged glances
No list of tips on how to tease your boyfriend would be complete without the art of provocative glances. Sometimes they can say more than words, but try not to blush or avert your eyes – this will spoil the whole effect.
11
Dance for him
Now it may seem a bit trivial to you, but it genuinely works! Show off your beautiful feminine curves and flexibility to your favorite tune. Stripping is optional, but is highly recommended!
12
Kiss passionately then stop
Seal all your teasing efforts with a hot kiss, but end it abruptly to make him wonder. It will have a short-term effect though, because he would definitely act to get what he wants. Still, it's a nice start for a foreplay that will surely follow.
ANY IDEAS ABOUT THIS TOPIC?