Every man has that one thing he loves in his sex life, at LEAST one thing. Before getting to the highlight of your night, get him in the mood too. It doesn't take long, and it is not complicated. How to turn a guy on can be done with these twelve tricks.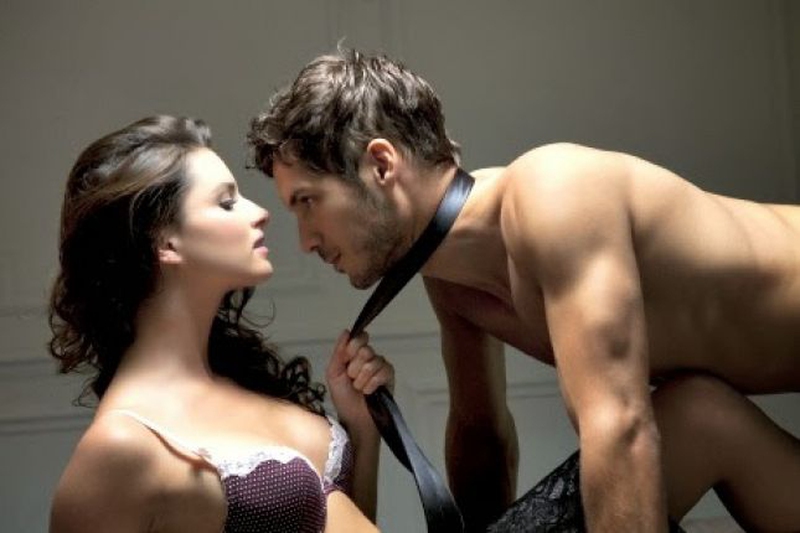 12 Sensuous Ways to Turn a Guy On
Peek-A-Boo
The classic "Oops, I dropped my napkin!" with an eyeful of booty always works. Let him see that you are interested and ready for a roll. Naked isn't necessary, be a tease! It all works with a skirt and a slit, tight tank top. Catch you man's eye and his hormones will do the rest.
Flirt Around
Don't sleep around in hopes of jealousy; flirt with another man. What?!? Yes! If you have a strong relationship and your man has confidence, it won't hurt a thing. Don't go overboard but just let him see that other men want you. When he sees the other man do a double take, you will be the one who wins in bed!
Feeling Sexy Feels Great
Every woman wants to know she is still attractive. Well, men have feelings, too. Let your man know how much you love his strong chest or treasure trail, or whatever you are into. The sexier he feels, the hotter he will be in bed. When he knows you still want him, he will perk up in moments, literally.
Flirt Like You Are Single
Flirting starts your sexual interaction from the beginning. Use this to your advantage in a new and exciting way. Pretend you have just met, go on a blind date, call him and act like a nervous school girl. He will remember the sexuality that drew him to you in the beginning, and it will be just as hot now!
Text with Temptation
Surprise your man with a detailed text of what you would love to do and how to do it before he gets home. Let him think about the possibilities and start looking forward to a long night of excitement. Throw in a sneak peak or full nude pic, and he will be running into the house!
Let Him Watch
Men are easy to please visually. It only takes a tight sweater to get a double take. So, lie in bed, tell him he is not allowed to touch, and start from the top and work your way down or just slowly massage your thighs. It may be a quick session, but he will go CRAZY!
Soft and Subtle
Do you love it when your man whispers in your ear during foreplay? Ears are very sensitive and an erogenous zone, for women and men alike. The chill you get down your back is an exciting reaction that tingles your body. Use your warm breath and slowly blow around his ear, he will love it as much as you!
Naughty School Girl
So, you are sweet, innocent and never do anything wrong, good for you! Let him know you can be naughty, and so naughty that you should be punished. When he comes home from work, meet him with your favorite sexy school girl outfit. Let him know you got in trouble and need to be punished. Role playing is exciting for men, it gets the blood flowing.
Shy or Venturesome
It takes time to let someone know your whole self. Being shy in the beginning is fun because it is a way to explore and learn about each other. Now, time to bring out the whip, cool-ship or leather—up to you. Surprise him by taking over; the more you control the bedroom, the less he can control himself.
Wild Surprises
Plan ahead and put your sexiest underwear in his glove compartment. On his way to work send a text, "check your glove box." When he finds his favorite pair of your panties, he will start getting turned on immediately! Men love it when you switch it up. When he gets home, he will have something for your compartment!
Let Him Feel Like a MAN
Ever wonder why he likes it when you wear his shirt? Wearing his clothes makes him feel like a man. Even if it feels baggy and so not sexy at first, you will soon see that he sees himself as a man while your body is swimming in his shirt because he is so big and manly.
Dress for Success in Bed
Time to shop! Find a few new pieces that will easily make his eye balls pop. Lingerie and heels are classic, together or by themselves. Heels give the advantage of leverage and dominance that could be all you need. Try to be a tight, lacy and semi-see through little number and he will max out in minutes!
Avoid the Turn-Offs
Well, when you are thinking about how to turn a guy on, you have to know a little about the turn offs are so that you can avoid them. Find the "top 10 biggest turn offs" from the video below:
ANY IDEAS ABOUT THIS TOPIC?