Miss the times when it was easy turning on your woman? Chances are, you are in a relationship for some time now and it's a struggle to understand how to turn on your girlfriend just like the good old days.
Or you are still a novice at this game.
Either way, we are going to teach you how to turn her on that will have your girlfriend want more from you. Warning. Side-effects may include your sex life and your relationship improving dramatically.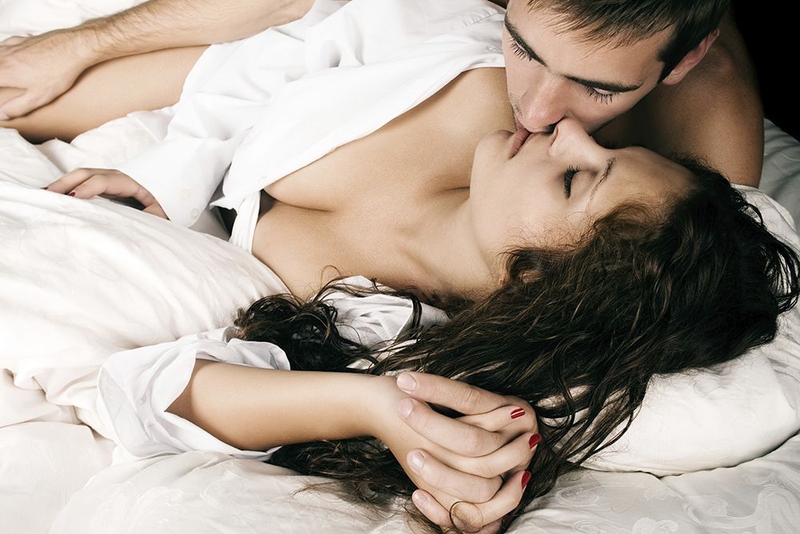 19 Methods to Turn Her on That You Must Try
If you really want to know how to turn on your girlfriend, use these time-tested approaches. Most of them are easy, some of them may require you to come out of your comfort zone, but your rewards will be totally worth the effort.
1
Listen to her
As simple as it sounds, not many men practice it. The easiest way to turn her on is simply to listen to her actively. Your girl will be mightily impressed when you pay attention to what she's saying. It shows you value her and her feelings.
2
Buy her some sexy clothing
Surprise her with some sensual, revealing lingerie or a skimpy garment and ask her to wear it for you. This will be an immediate turn-on for her as she will get all your hints on what is to follow.
3
Be a good kisser
A kiss is a prelude to better and more intimate things between you and your girl, so make sure you are a good kisser. No rocket science, just have a fresh breath and kiss passionately as if there's no tomorrow.
4
Give her a relaxing massage
Turn into a masseur for the day, giving her a soothing massage using aromatic oils, touching and caressing every sensitive part of hers. Don't be surprised to see her moan in pleasure, much before you've even started the foreplay!
5
Play the blindfolding game
Here's what she probably won't tell you: she's a little insecure about her body. If you blindfold yourself or better still, ask her to blindfold you, she'll open up herself (pun intended!) more to you now that you cannot see her. Now you know how to turn on your girlfriend.
6
Display your affection publicly
Nothing wrong with a little PDA as long as you don't break local laws. It's an adventure, a thrill to make out in the open and will surely turn her on. Just ensure not to go overboard and leave the best parts to when you reach home.
7
Be a gentleman
Chivalry is almost dead these days, so if you hold doors or pull out the chair for her, it'll be a pleasant and welcomed gesture from your side. Enough for her to feel attracted towards you.
8
Be well groomed
Definitely be yourself around her, but don't look sloppy. A well-tailored suit for special occasions, clean everyday clothes and good hygiene will go a long way to eventually show you as her preferred partner.
9
Talk dirty
This one's a little tricky in that you should only try talking dirty if you're already intimate with her. Otherwise, it may backfire. But if you are sure, go ahead and tell her how much you want her and what you'll do once you meet. Whisper it to her, say it all on the phone or text it, it will turn her on.
10
Encourage her to guide you
Usually men do their own thing when making out, but for a change, ask her to tell you what to do next. Let her be your guide and do as she says. Just the thought of taking charge while having sex with you will absolutely excite and get her hotter.
11
Stimulating conversations
Not just about sex, but show her your knowledge about literature, economics, politics and classical music. Girls appreciate guys who are intelligent and well read, and will welcome conversations on these subjects.
12
Physical and mental prowess
How to turn on your girlfriend? Show her she has a strong boyfriend. Not just a strong body that can carry her from the living room to the bedroom, but also a strong mentality that can calm and assure her in times of crisis.
13
Good sense of humor
Your ability to make her smile and laugh will be a strong turn-on for her. Don't be serious at all times, loosen up a little especially when things are a bit tense between you and her. That unexpected joke or funny one-liner will get her in splits.
14
Connect emotionally
One of the best ways to turn her on is by conveying that your attraction towards her is not just physical. Share your feelings, your emotions, desires and frustrations and your relationship with her so she completely knows and understands you. This emotional connect can turn her on whenever she thinks of you.
15
Have hobbies and passions
Don't be that nerdy guy who knows nothing outside his area of expertise. Actively involve yourself in hobbies, show her you are not a lone wolf and have a good social circle. Talk passionately about your hobbies, tell her stories of your adventure. Your woman may be aroused just listening to you.
16
Smell nice
Ditch your deodorant and start wearing a nice, masculine smelling perfume. Because when you get close to her, you want to smell good. A great fragrance will get her closer to you, making it easier for you to seduce her.
17
Role play
Discuss the role play with her or even surprise her! Role plays are among the best ways to arouse her. The thrill of dressing up and enacting her wildest fantasies with you will not only turn her on, but also break any rut that sometimes creeps in a long term relationship.
18
Hug her
A warm, tight hug from you can give her a hint of what you want to do after the embrace. This anticipation will excite her and will hopefully have a happy ending for you both.
19
Be patient
Let's face it. Girls take their own time to dress up, to make decisions and of course, to get physically intimate with men. It's important for you to show patience and not get desperate about it. Respect that she's taking time and she'll admire you in return.
ANY IDEAS ABOUT THIS TOPIC?