Preparing for a new baby is an exciting time with lot's to do. You've put away all the tiny clothes and the nursery is ready. One of the last things you need to do before you pack your hospital bag is write a maternity leave letter to your employer. Maternity leave is a period of time you will need to recover from childbirth and get to know your new little one.
Maternity leave is protected under the Family & Medical Act of 1993. The act states that a large employer (over 50 employees) must provide employees with up to 12 weeks medical leave for an illness, an ill family member, and maternity leave. The only qualification you need is that you have worked for the company 12 months or 1,200 hours. If you have applied for FMLA, you are protected from being fired for taking this leave. This article will help walk you through the process of writing your letter and gives you a maternity leave letter sample to follow.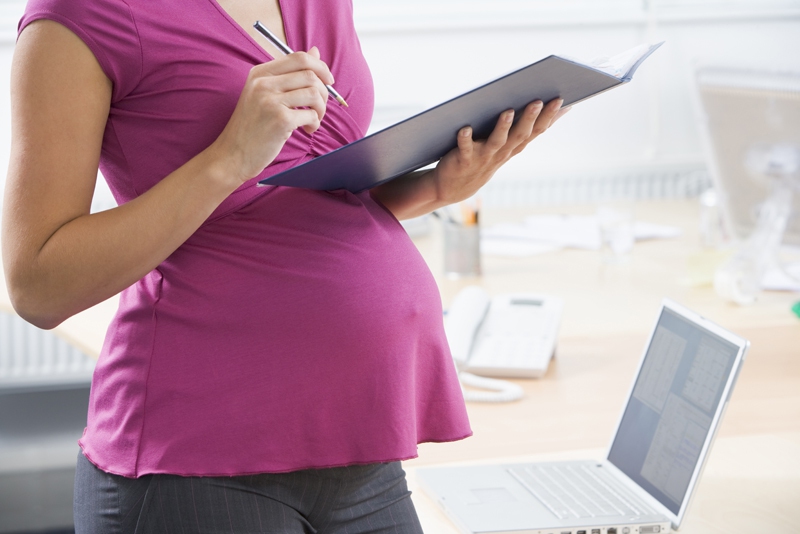 Key Information to Include in Maternity Leave Letter
Time, Tone and Letter Recipient
When you write a maternity leave letter to your employer, the tone should follow these tones; formal, direct, and pleasant. Make sure you direct and address the letter to your immediate supervisor so that he or she will read the letter themselves. You may also add other recipients and make sure to include your human resource department so that it will be placed in your employee file. It is important to give your company at least eight weeks' notice prior to your due date. Below are some helpful guidelines for you to follow when writing:
Letter Format and Contents
Begin your letter with a formal announcement of your pregnancy to your boss. Then include the day you plan on leaving for maternity leave, your due date, and when you plan on returning. If your company requires it, you may need to include a confirmation of pregnancy letter from your physician. Ask your human resources department for a copy of your official company policy on pregnancy and maternity leave.
Include your duties and outline what needs to be finished. The maternity leave letter sample just included a briefing on work that will be finished prior to leave. If you have a very detailed job in your department with ongoing projects, outline what you are working on, what you will be able to finish and any work that will need to be completed by someone else in your absence.
Sample of Maternity Leave Letter
This sample maternity leave letter is from an employee who is planning to take a full 12 week maternity leave. She will be leaving her job 2 weeks prior to her due date so she can rest and prepare for her delivery. She will be taking another 10 weeks after the baby is born so she can recover and bond with her new baby. This letter was written and submitted 8 weeks prior to the beginning of the maternity leave to give her company adequate time to find replacement help during her leave. The employee writes the letter in a formal and concise format, but takes the time to thank her employer and provides contact information while she is out. Here is her letter:
Carolyn Whitfield, Administrative Assistant
Dental Claims Processing Department
12 Mockingbird Lane
Boston, MA 01278
March 1, 2015
Karin James
Human Resources, Cigna Healthcare
700 Akers Road
Cambridge, MA 01286
Dear Ms. James,
I am writing to inform you that I am pregnant and due on July 15, 2015. It is my intention to take the FMLA allotted 12 weeks of maternity leave from my position here at Cigna Healthcare. I have enclosed my doctor's statement confirming my pregnancy and due date. I intend to start maternity leave on June 30, 2015. If I deliver on or near my due date as planned, I will be returning to work on September 15, 2015. I will be working to complete all of my unfinished work assignments prior to leaving and be available for questions by phone during my absence whenever possible.
I will strive to keep you informed of any variations in this plan and unforeseen complications. Thank you for your consideration in this matter, as this benefit will help me rest prior to delivery, recover from the birth and get to know my new baby. Feel free to contact me at my personal email: [email protected] or my cell phone (978)-909-1422. Thank you again for your consideration.
Sincerely,
Carolyn Whitfield, Administrative Assistant
Dental Claims Processing Department
Helpful Tips
1) Request a "gradual return." Some women may choose to take 4 to 6 weeks off after the birth of a baby and work part time the rest of their leave. If this is your intention, be sure to state that in your maternity leave letter.
2) Make recommendations. Your company may allow you to designate your best choice for your replacement during leave. This may be someone that works closely with you and understands your duties.
3) Contact human resources to check benefits and applications. A maternity leave letter to employer may be all that you need. However, if there are any benefits/cash pay involved you may need to fill out more forms to include with the letter. Contact human resources just to make sure.
Maternity Leave Letter: More Information You Should Know
1
Additional Leave
You may be able to apply for additional leave if you are having or adopting a baby. You need to check with your human resources department. Extra sick leave and/or vacation may extend your leave beyond the 12 weeks of FMLA leave. Remember, only the 12 weeks FMLA are protected under the act.
2
Adapting Maternity Leave Letter Sample
The maternity leave letter sample can be adapted to your individual needs. Just make sure you include your boss's name, the human resources department, and your contact information. You can also update your due date as needed or mention the fact that you will be adopting a child. If you are adopting, you don't need to include it in the letter if you wish that be kept private. Check with your human resources what documentation you will need for proof.
3
Submitting Your Maternity Leave Letter
Your maternity leave letter to employer needs to be submitted in your second trimester of pregnancy. Schedule time with your boss to go over the letter. You can also drop it by their office and let them know if they have any questions, they can contact you at their convenience. Make sure to do a follow up to make sure they read the letter and are okay with the dates provided. Always offer any assistance with planning how your work will get done while you are gone.
ANY IDEAS ABOUT THIS TOPIC?